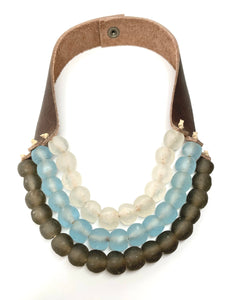 Krobo 3 Strand • Baby Blues
The Krobo necklace is the signature design of Stephanie Leigh Jewelry. It combines artistry, upcycled and recycled materials, color theory, and even psychology. The beads lie flat, instead of hanging, so they feel comfortable and soothing against the chest. Wearing a Krobo necklace grounds you into yourself, holds space for you to move authentically in the world.
specs:
 reduced carbon footprint: handmade without machines using upcycled & recycled materials
 Krobo beads from Ghana, handcrafted one at a time from recycled glass bottles
 leather ethically sourced form salvaged furniture scrap remnants
 brass adornments & spacers crafted from upcycled & discarded scrap brass
 highest strand of beads equivalent to 18" (46cm) necklace
 lowest strand of beads equivalent to 19.5" (49.5cm) necklace
 leather strap 1" (2.5cm) wide
 matching leather extender included, which adds 3" (7.6cm) in total length
Krobo beads, made by the Krobo people throughout the southeastern region of Ghana, from recycled glass (mostly bottles). These beads were originally used as currency. Each one is made by hand in a labor-intensive process of pulverizing glass, mixing it with natural dyes, and heating it to a temperature to mold the beads. The hole is formed by sticking a cassava leaf through the center. Every Krobo bead is elegant and unique.
Upcycled leather, from furniture scrap remnants from a local maker. This scrap material is too small for the furniture designs, but perfectly repurposed for Stephanie Leigh Jewelry. All leather is of a specific leather density, hand-selected and then hand cut and tooled for every piece of jewelry. 
 Color theory, which evokes patterns found in nature or by human creation. Colors have their own energetic imprint, their unique vibration and resonance. They can serve as reminders of special memories. They can hold space for how you present yourself to the world.