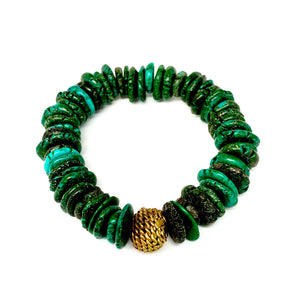 Chrysocolla Stretch Bracelet
Funky chunky gemstone bracelets are the perfect pop of color with any outfit. These oversized stretch bangles are made with 100% authentic gemstones to light up your wrist and your chakras.
Chrysocolla channels your feminine energies and helps to bring a gentleness to your space and heart. It is the stone of unconditional love. It has been known to strengthen the bodies ability to heal from illness and environmental stressors, bringing the wearer peace and tranquility.
Adorned with a solid brass focal bead.

Please select size option closest to your actual wrist measurement.* To get the most accurate measurement wrap a string tightly around your wrist and measure that string from end to end against a ruler.

.5 inches is added to every bracelet to ensure a comfortable fit. 
*If your wrist measures 6.5 inches, select size 6.5 inches on site.