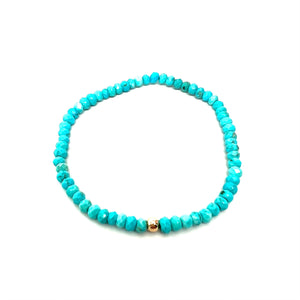 Gemstone Mini Bracelet Turquoise
3mm gemstone on stretch cording with 14k gold filled accent bead
Turquoise - the talisman of kings, shamans, and warriors. As a healing stone, Turquoise is among the crystal healing master stones. According to followers of the New Age, the healing powers of Turquoise can benefit the whole body, with special strengths in healing ailments of the immune, respiratory, waste and skeletal systems.
Please select closest wrist size in inches for a custom fit. 6.75"  being standard. Each bracelet is custom made to order. 
Mini bracelets fit and fell best with a snug fit please be precise when measuring your wrist.