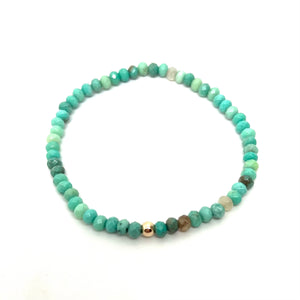 Gemstone Mini Bracelet Chrysoprase
3mm gemstone on stretch cording with 14k gold filled accent bead
Chrysoprase opens, activates and energises the heart and sacral chakras, balances yin-yang energy, and brings Universal energy into the physical body.

Please select closest wrist size in inches for a custom fit. 6.75"  being standard. Each bracelet is custom made to order. 
Mini bracelets fit and fell best with a snug fit please be precise when measuring your wrist.